The Market Analysis
Have you ever tried to throw a rock in the water to investigate the depth before you dive in? Performing a market analysis is pretty much an equivalent test, but for your business. It's an analysis to decide whether it is a wise decision to jump headfirst into a market, or if you should find another place to take the plunge.
The market analysis can also be helpful to analyze a market you are already in to figure out if the current state is evolving in a positive direction for your business. When you perform a market Analysis, you study the attractiveness and the dynamics of a particular market within an industry. It considers the market's size in volume and value, the various customer segments, buying patterns, the competition, and the economic environment regarding the barriers to entry and potential regulation.
Furthermore, It examines how the market has evolved, what the current situation looks like, and how you expect it to change when you enter. hopefully, by the time you finish, you can conclude it's got serious depth 🏊‍♂️
A market analysis is crucial to understand how you should position yourself in a specific market and what competitive advantages you should focus on (or develop) to be competitive in the marketplace. A market analysis is a key part of a great business plan and will give you the best prerequisites to create an effective marketing strategy and conquer market shares.What are the Objectives of Market Analysis?
To define the point of entry into the market.
Review the market's level of supply and demand.
Profile the market's consumers.
Profile the market's competitors.
Profile your startup's market position.
Identify market opportunities.
Outline market threats and market threats solutions.
... And more importantly, it should provide you with information to decide if a market is worth targeting or if you should pivot some elements of your business before jumping in.
Market Analysis Walk-through
While conducting a marketing analysis is a pretty straightforward process, it takes a lot of dedicated research and consideration, so be ready to devote significant time to make it. It's also one of those things you should occasionally circle back to and reanalyze. The marketplace is forever changing, and your success depends on your ability to adapt. So, make it a habit to reevaluate now and then.
A thorough marketing analysis should help you answer the following questions:
Who are my potential customers?
How do I best reach them?
What are my customers' buying habits?
How large is my specific target market?
How much are customers willing to pay for my product?
Who are my main competitors?
What are my competitors' strengths and weaknesses?
How should I position myself in regards to them?
How can I leverage my strengths and my competitors' weaknesses to obtain the biggest 🍰 of the market?
Let's get to it: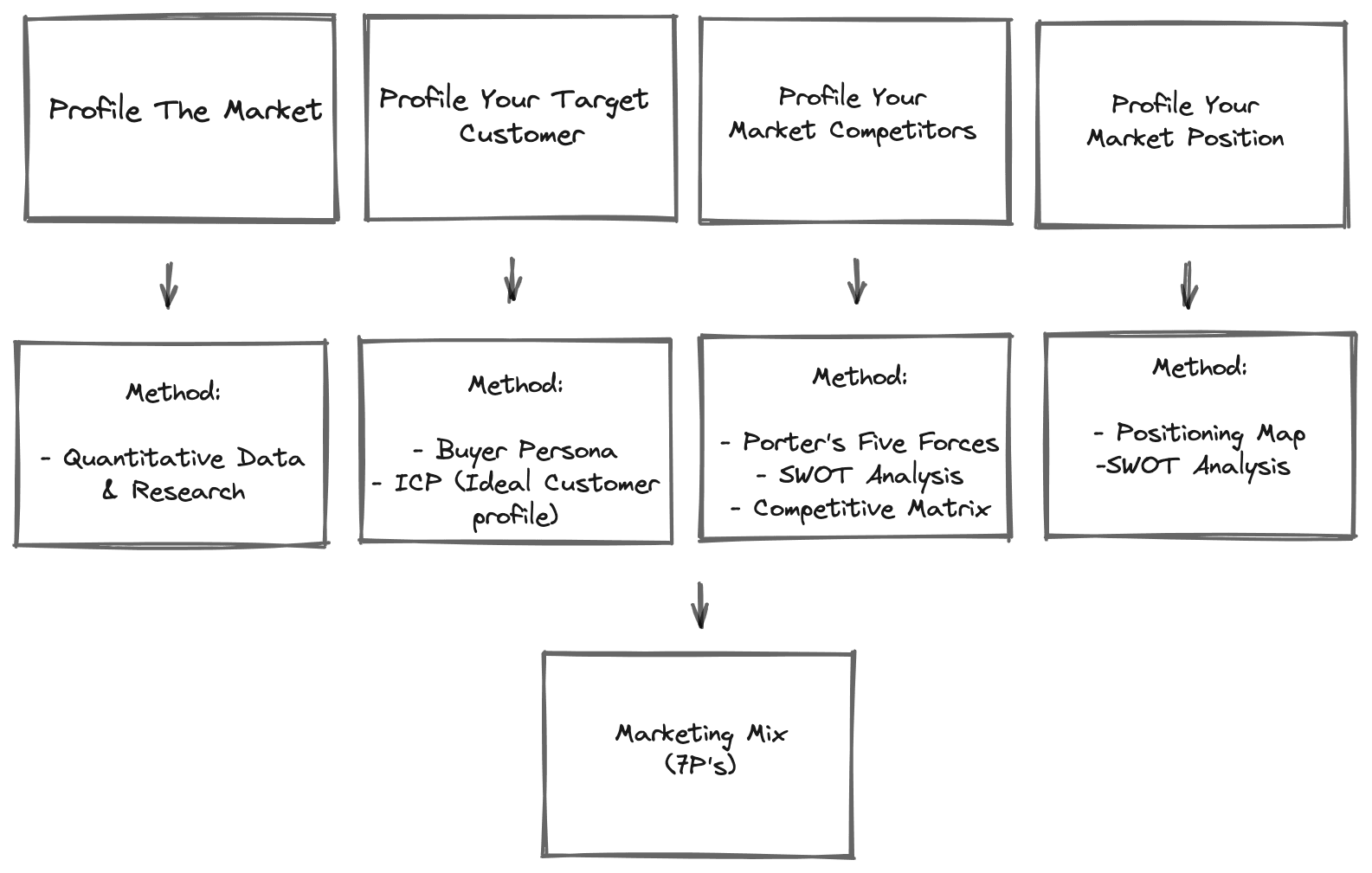 Step 1: Profile the Market
The first step is to profile the market you're targeting. To do so, you need a detailed outline of the current state of your industry.
But what is the difference between a market and an industry? 🤔To distinguish the difference, we can take Coca-Cola as an example; they are in the Fast-moving consumer goods industry, but they operate primarily in the carbonated soft-drinks market. The Industry is the overarching umbrella that contains the market. The market is a specific sub-category in that space: the more specific sub-category you can find and serve, the better. If you can serve a niche in a way nobody else can, you have a competitive advantage – and that is what makes a business stand out.The industry very much defines the market, so start by explaining the industry's current state and then move on to the specific market you're targeting. Include where the industry and market seem to be heading and what macro-and micro trends influence them.
What are macro and micro trends? 🤔
In recent years we have seen a global health movement where the ordinary consumer has become more aware of what is in the things we are consuming, with sugar being one of the commodities most under attack. That is a macro trend that Coco-Cola responded to, bringing all their products to market in sugar-free editions, which now represents a substantial percentage of their sales. A micro-trend could be that consumers increasingly are shopping groceries online, which the Coca-cola company could adapt to by ensuring that most online retailers sell Coco-Cola at a competitive price. To paint a picture of the market and industry, it's wise to use size and projected growth metrics, with plenty of data to support your findings.
"The current market is worth €500 million in yearly sales, and by the end of 2027, it is estimated to have grown to €1 billion, with a 20 % year-to-year market growth".
To obtain this information, you'll need to do a lot of research. You can check governmental data, trade association data, or different industry reports. You can also perform your own research, but always ensure that you follow proven research methodologies and collect unbiased and valid data – especially if you want to base your strategy and future projections on your findings.
Step 2: Profile Your Target Customer
You have probably heard the saying, "Build products that customers want."Even though it's a pretty obvious statement, the importance is not to be underestimated.
It is one of the most crucial concepts to get right in entrepreneurship if you want to build a successful business. If you don't know exactly who your customers are and how to target them, giving them what they want is challenging. Lack of consumer knowledge is one of the most common reasons businesses fail.But what do customers want? As an entrepreneur, marketeer, and product builder, that is your job to figure out.When you build a product, you'll often have a vague feeling and understanding of who might be interested in the product. Your gut feeling based on your own world experience is an essential initial instrument to bring you close. But to succeed, soon you'll need to talk with these people and confirm what they need you to solve. Continuously talking to current and potential future customers is vital!Not everyone in the world will be your customer, and it would be a waste of your time trying to get everyone interested in your product. You need to decide who it's for and then use all your marketing resources to get the product in front of them.You need to know who your customers are, where they come from, and what might influence their buying decisions. Look at factors such as: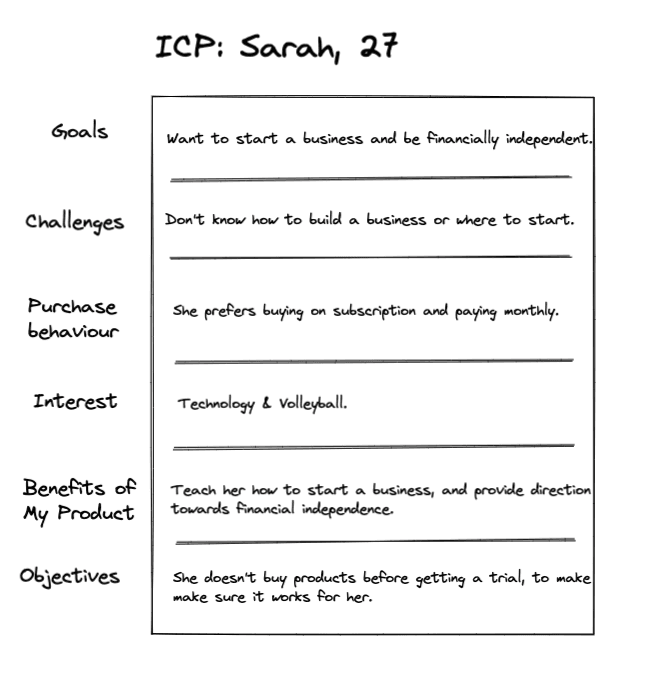 Age
Gender
Location
Occupation
Income
Education
Personality type
Desires
Needs
Interests, etc
The better you pinpoint what your ideal customer looks like and what makes them tick, the easier you'll have to build something they will value. It will also make it easier to target them and create a more efficient marketing strategy – thus, making more money.
Step 3: Profile Your Market's Competitors
Business is a competitive endeavor, and being hyper-aware of the landscape and developing a good understanding of what each of your competitors brings to the table is crucial. Start by listing all your main competitors, then go through that list and conduct a competitive analysis matrix. Just like this one 👇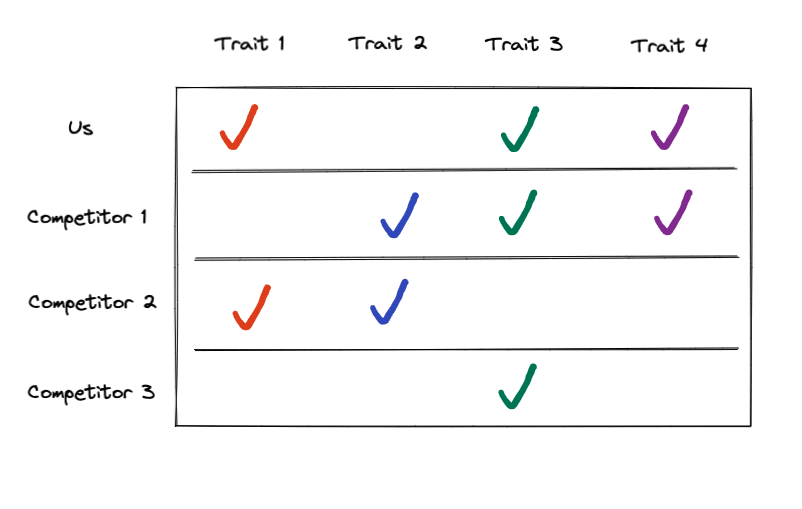 Ask yourself:
What does the competition offer that I don't?
What would lead a customer to choose them over me?
Why?
Put yourself in the customer's shoes and be honest about the competitor's strengths and weaknesses. Then, rank your list of competitors from most to least threatening.
Step 4: Profile Your Market Position
When you're done profiling your different competitors and have ranked and categorized them by what they each represent in the market, it's time to figure out where in the puzzle your business fits.To help you, you can use a Positioning Map 🗺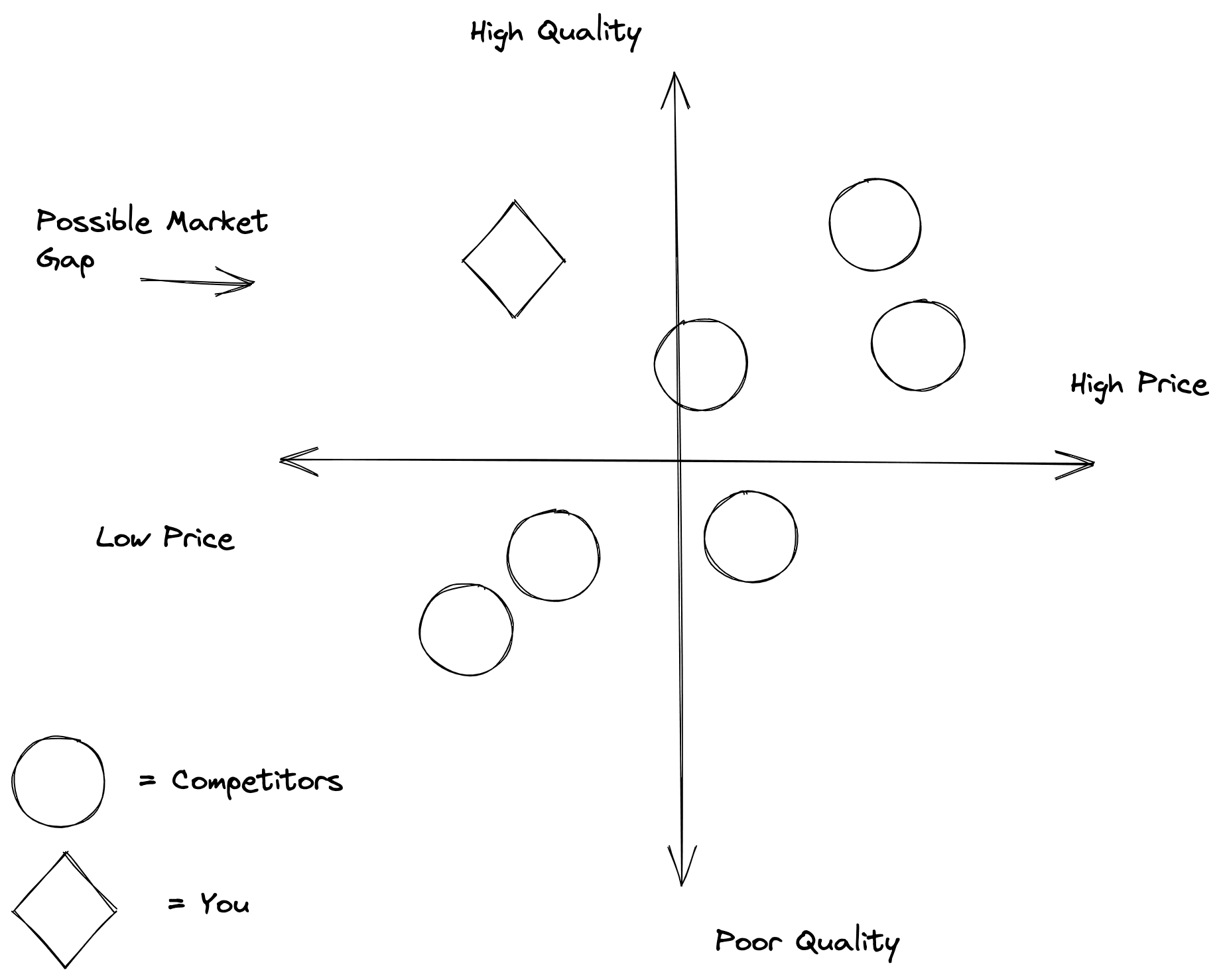 Find the most valued attributes in the market. That could be price, convenience, quality, brand value, etc.It would be best to choose the most important parameters for the market, which are the attributes the customers value the most. You might need to do several positioning maps with different parameters to get a representative picture of the competitive situation in the market.The positioning map will showcase how saturated a market is and indicate your competitors' strategies, which you can then leverage in your own strategy.If you can find a sweet spot in the matrix without competitors, that is known as a market gap. You'll have a competitive advantage if you position your company in that gap. The more (or more substantial) competitive advantages you have, the better your business case and chances for success are.
Step 5: Conclusion
After following the previous steps, you'll now possess a complete 360-degree view of the market dynamics and know precisely who your customers are, how best to target them, and how you differ from the competition.The next step is to use that knowledge/data to conduct a SWOT Analysis with your startup at the heart of the process. You should consider:
What are your current strengths and weaknesses when looking at the marketplace?
What threats and opportunities are out there?
Put Your Analysis to Work
Once you've done the work performing your market analysis, it's time to make it work for you. Internally, look for where you can use your research and findings to improve your business.
Are there ways to make your marketing strategy more effective?
What is your master plan for winning this market?